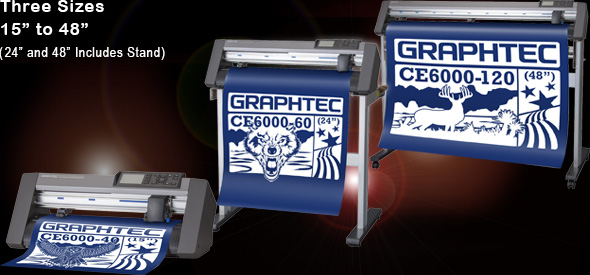 The CE6000 are Graphtec's professional class of cutter plotter series, and updates the extremely successful CE5000 series with improved features. The CE6000 series is also cleaner, "greener" with an electronic design and manufacturing process that minimizes the environmental impact of the hardware equipment throughout its entire life cycle.
Includes Graphtec ARMS (Advanced Registration Mark Sensor)
Contour Cut Pre-Printed Graphics
Up to 300 & 450* grams of force
Tangential Emulation
1 Table top, desktop Size (15″)
2 Included Stand Sizes (24″ and 48″)
FC-8000 series
The FC8600 series high performance cutting plotter is an industry leader for sign makers, graphic artists, automotive aftermarket professionals, countertop installers and other related users.

Maximum cutting speed of 58.5 in/sec
4.0G Maximum Acceleration
Up to 600g cutting force!
Effective cutting of:
diamond grade, high-intensity reflective film, prismatic grade reflective sheeting, sandblast resist rubber, automotive window & paint protection films, self-adhesive vinyl, Amberlith™ and Rubylith™, among other media types.